Who Are We?
The Huntsville Alabama L5 Society (HAL5) was founded in 1983 as a chapter of the former L5 Society. The L5 Society was founded in 1975 by Carolyn Meinel and Keith Henson to promote the space colony ideas of Gerard K. O'Neill.

The name "L5 Society" comes from the L4 and L5 Lagrangian points in the Earth–Moon system proposed as locations for the huge rotating space habitats that O'Neill envisioned. L4 and L5 are points of stable gravitational equilibrium located along the path of the moon's orbit, 60 degrees ahead or behind it. An object placed in orbit around L5 (or L4) will remain there indefinitely without having to expend fuel to keep its position, whereas an object placed at L1, L2 or L3 (all points of unstable equilibrium) may have to expend fuel if it drifts off the point.

In 1987 the L5 Society merged with the National Space Institute to form the National Space Society (NSS), for which we are a chapter of. Both HAL5 and the NSS are not-for-profit 501(c)(3), grassroots, space educational/advocacy organizations.

For over 30 years, we have made significant contributions toward developing cheap access to space technology, STEM education, and public outreach. Members share the enthusiasm that space development can stimulate our world with immeasurable benefits in the areas of education, energy, environment, industry, resources, and ultimately room to grow for our society. HAL5 and the NSS believe that by educating and working with the public, the government, and private industry, we can speed up the date when routine, safe, and affordable space travel is available to all.

HAL5 have sponsored numerous educational projects and activities in Huntsville. These have included a long running series of free public lectures on space-related topics. Recent topics have included the International Space Station, NASA Space Launch System, Orion Capsule, science fiction book lectures, current and future planetary probes, astronomy, space sciences, and public and private attempts to provide cheap access to space. For kids, we have brought fun STEM activities to the local schools and to local events like: Von Braun Astronomical Society (VBAS) Astronomy Day, Arts Huntsville Panoply Arts Festival, school visits for make and launch paper air rockets at Hampton Cove Middle School and Columbia Elementary School, and the short lived Huntsville STEAMFEST. As a space advocacy group, we have hosted many activities to build non-partisan political support for space. Some of the chapter's significant projects and achievements can be found a the bottom of the page.

Today, HAL5 have started a new life saving project, the Alabama Power Grid Defense Committee, to safe guard our critical infrastructure and to ensure a spacefaring future. We are also continue to dabble in amateur rocketry and testing other hybrid propulsion concepts. Today these technologies are poised to find expression in air launched nitrous-oxide hybrid rocket powered spaceship. This is proof positive that great things can start in small organizations.
HAL5 Annual Reports to the Membership
A great ways to find out what we did each year since 2005.
[ 2017 ] • [ 2016 ] • [ 2015 ] • [ 2014 ] • [ 2013 ] • [ 2012 ] • [ 2011 ] • [ 2010 ] • [ 2009 ] • [ 2008 ] • [ 2007 ] • [ 2006 ]
HAL5 Officers (Calendar Year 2020)
President: David Newsome
Vice President: David Hewitt
Treasurer: Ronnie Lajoie
Secretary: Tim Weaver
Publicity: Kerry Bumpas
Education Outreach: David Hewitt
Membership: Robin Scott
Southeastern Space Supporter Newsletters
Former Newsletters of HAL5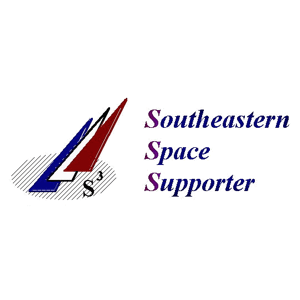 The Southeastern Space Supporter is the FORMER bimonthly newsletter of the HAL5 started in 1994. The Southeastern Space Supporter ceased publication in the year 2000 due to the explosion in online contents dedicated to all things space, and more. The information on this web page is provided for historical and reference purposes. [ Learn More ]
Note Worthy Dates and Major Activities
2018 - Participated in International Observe the Moon Night at USSRC.
2018 - Staffed and operated Panoply 2018 Lunar Rover STEAM Interactive Tent.
2017 - Participated in International Observe the Moon Night at USSRC.
2017 - Staffed and operated Panoply 2017 Hovercraft STEAM Interactive Tent.
2016 - Challenger Elementary School unveiled the Challenger 30th Commemoration Wall with joint partnership from HAL5
2016 - Staffed and operated Panoply 2016 Lunar Lava Layers STEAM Interactive Tent.
2016 - NSS Chapter Excellence Award for 2016. Received at ISDC 2017.
2015 - Co-Staffed and operated Panoply 2015 Squiggle Bots STEAM Interactive Tent with Sci-Quest.
2015 - NSS Chapter Excellence Award for Public Outreach for 2015. Received at ISDC 2016.
2014 - Designed, created, staffed and operated Panoply 2014 Interactive Testing Station on Catapults and Cosmic Comet.
2014 - NSS Chapter Excellence Award for Public Outreach for 2014. Received at ISDC 2015.
2013 - NSS Chapter Excellence Award for Public Outreach for 2013. Received at ISDC 2014.
2012 - Unveiled the game "Pin the Payload on the International Space Station"
2012 - NSS Chapter Excellence Award for Public Outreach for 2012. Received at ISDC 2013.
2011 - NSS Chapter Excellence Award for Public Outreach for 2011. Received at ISDC 2012.
2011 - Hosted the 30th annual NSS ISDC
2010 - NSS Chapter of the Year for 2010. Received at ISDC 2011.
2009 - NSS Excellence Chapter of the Year Award. Received at ISDC 2010.
2008 - NSS Chapter Excellence Award for Public Outreach. Received at ISDC 2009.
2004 - Hosted the Southeastern Space Development Conference (SSDC)
1997 - NSS Chapter Excellence Award for the outstanding public lecture series
1997 - May 11 - HAL5 made amateur rocketry history with the first hybrid rockoon mission, dubbed Sky Launch 1, and is now listed in the Guinness Book of World Records. The rocket was launched from a high altitude balloon at approximately 20 miles
1996 - Unveiled its new educational program, called Project HALO Achievement
1995 - Purchased and donated a reusable tethered balloon to the Huntsville elementary school system in support of the HOPE program
1994 - Start of Project HALO (for "High-Altitude Lift-Off")
1993 - Hosted the 12th annual NSS International Space Development Conference (ISDC)
1993 - City of Huntsville designated the 1993 ISDC as one of its top ten conferences
1993 - Hosted a highly successful 3-day "Junior Cadet Program" as part of the ISDC
1987 - Supported a Space Shuttle "Get-Away-Special Canister" (GAS Can) project for local high school students
1983 - Founding of HAL5